Publications

by John W. Bennison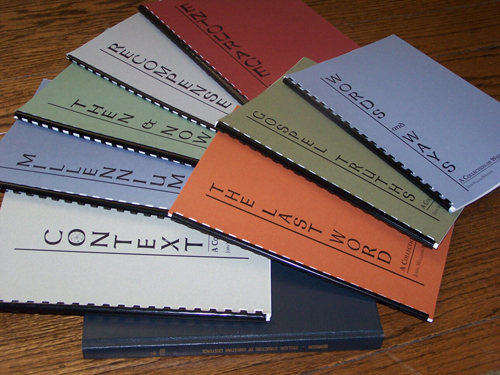 The Last Word: A Collection of 14 Writings **
Gospel Truths: A Collection of 28 Writings*
Words & Ways: A Collection of 20 Writings***
Entourage: A Collection of 24 Writings **
Recompense: A Collection of 17 Writings*
Then & Now: A Collection of 22 Writings***
Millennium: A Collection of 15 Writings**
Context: A Collection of 13 Writings*
Journey & Homecoming: A Cyclical Structure of Christian Existence
© 2006 – All list publications by John William Bennison. All rights reserved.
Who might benefit most from reading these Collections?
For those who preach, for students of the Bible, and anyone interested in relating one's spiritual life with one's daily life in contemporary ways …
Note: Many of the writings found in these publications are the result of a preaching event subsequently placed in manuscript form. They generally follow the familiar 3-Year Common Lectionary of calendared texts, and represent nearly three full cycles of the Lectionary, notated above by an asterisk.
* Year A
** Year B
*** Year C
If you preach or teach…
If we're honest about it, when it comes to the art of homiletics, there is nothing new under the sun; except, course, the new and revelatory way in which the Divine speaks again and again through ancient texts that are still revered as "living" words for many people. The preacher asks, "Where is the life in them?" We often go through dry spells, followed by times when rich and meaningful words flow through us. Each preacher experiences the texts within the context of our own life experiences. And if we are open to hearing wisdom speak through many voices, we know we can learn from one another.
While many of the pieces in these Collections are set in a very contemporary context by certain stories that are subsequently as fresh as last month's news, we know the human and Divine story continually repeats itself with new examples all the time. In each case, the homiletical points which underly each of these messages can be lifted and adapted; or simply be the catalyst for your own new thinking.
If you are a student of the Bible …
The Index found by clicking on each of the publication's Table of Contents includes the Biblical texts to which each piece refers. Alternatively, you can use the 3-Year Common Lectionary to cross-reference particular pieces in the Collections for your own study and reflection.
If you are interested
in relating and integrating the spiritual life with one's daily life in contemporary way, these reflective readings may enhance your own journey or further illumine your path.
Reviews
of John Bennison's Collections of Writings can be found here.
John Bennison served over 25 years in parish ministry as an Episcopal priest, while engaging scripture for his listeners and readers week, after week, after week. He never knowingly preached the same sermon twice. He received his B.A. in Philosophy and Religion from Lake Forest College, and his Doctor of Religion degree from Claremont School of Theology.
The author welcomes comments and inquiries . You can email him at jb@wordsnways.com